It's been exactly one year since COVID took over and like every holiday since, COVID restrictions are impacting St. Patrick's Day 2021.  The parade has been canceled and many of the typical events around town aren't happening.  So whether you are staying home because it's safer, or you just prefer to celebrate at home, I put together a list of ways to celebrate St. Patrick's Day at home with kids.
Build a Leprechaun Trap
We never did much to celebrate St. Patrick's Day when I was younger other than wear green for the day!  Fast forward to today, and I'm seeing families who celebrate St. Patrick's Day with a visit from the Leprechaun and that all starts by building a Leprechaun trap.   Before I dig in to HOW to build the trap, let me explain the concept cause to be honest, I had no clue until I looked in to it.
Just like Santa, Elf on the Shelf and even the Easter Bunny, different families have different interpretations of what the Leprechaun is all about.  The basic principle behind it is to build a contraption that can catch the sneaky Leprechaun so the kids can see him the morning of St. Patrick's Day.  Naturally the Leprechaun always gets away but he usually leaves a mess or something else for the kids behind.
As I said, this whole idea starts by building a trap and there are a ton of ideas on my Pinterest board on ways to build a trap.   Some families get really elaborate.  Others keep it simple.  How you do it is completely up to you!
Here's a link to my Pinterest board for ideas and inspiration.
Have the Leprechaun Come for a Visit
Once your trap is built, you have to plan for your Leprechaun's visit.  As I said, I've seen some pretty elaborate visits but you can keep it simple.  Some Leprechauns leave treats like gold coins or candy.  You could also consider doing a fun breakfast item like:
Green pancakes
Lucky Charms Cereal
Green bagels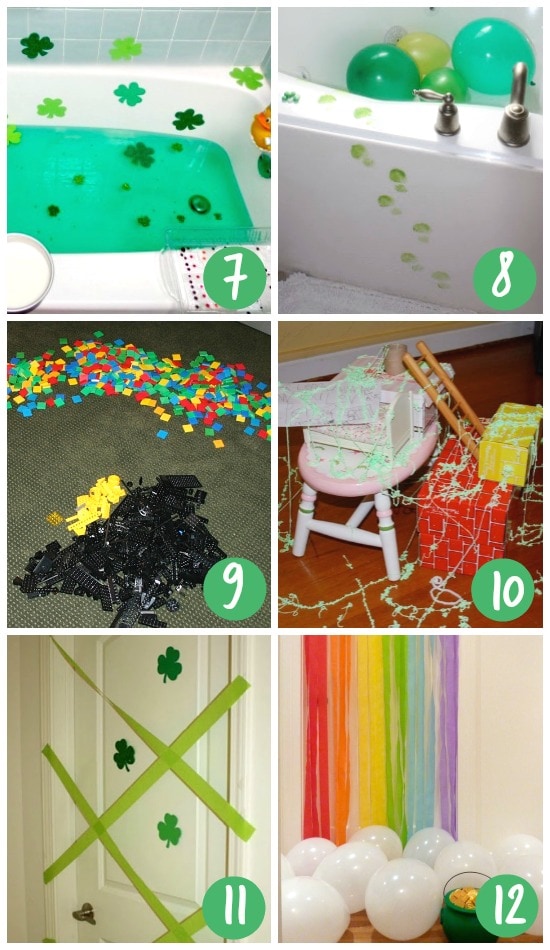 Also, some Leprechauns leave a mess!  Green footprints, green "pee" in the toilet, green balloons around the house, the list is endless.  Ideas and inspiration for Leprechaun mischief are also on my Pinterest board dedicated to St. Patrick's Day.
Lastly, you can have the Leprechaun visit WITHOUT building a trap, just leave something fun in the morning!
Buy a Cookie Kit
A fun, fast and simple activity to do at home for St. Patrick's Day is to buy a cookie from a local bakery and decorate them together.  Throughout COVID, many places did this and I'm sure many will do it again for St. Patrick's Day.  I recently saw paintable St. Patrick's Day Cookie Kits being offered by Buffalo Learning Lab.  Check out their page for more info. 
Color a St. Patrick's Day Picture
Visit my coloring sheets page to down free St. Patrick's Day themed coloring pages.  If you have more than one child, you could consider having a coloring contest and give away prizes to everyone.
Crafts
If your kids aren't "slime age" or you just don't want to go the slime route, I found a lot of really cute St. Patrick's Day craft projects that I added to my Pinterest board.  I'm generally a sucker for anything that has my child's face on it so this Leprechaun man from the blog, The Best Ideas for Kids, was one of the favorite's I found.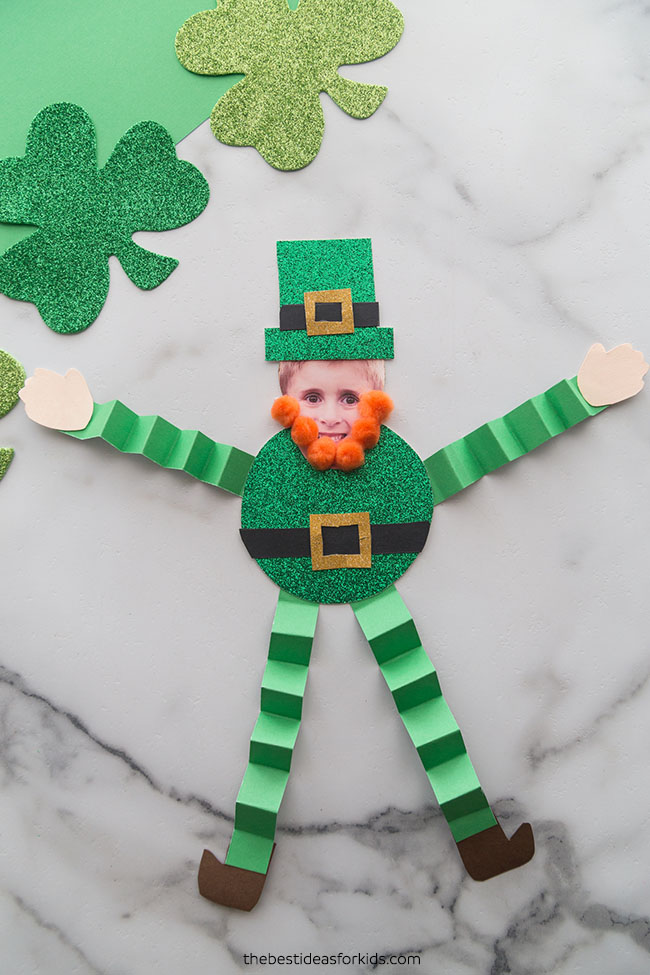 Movies
I had no idea but there are actually quite a few St. Patrick's Day movies that are kid appropriate.  Here's a list I found. 
Is there something your family likes to do for St. Patrick's Day?  Contact me and let me know!